Student Activities & Events partners with students to support organizations and clubs, facilitate programs and events that create community, develop the whole person, and foster a deep sense of connection to each other and our campus. Welcome to your Student Life Experience at San Francisco State!

Students have the ability to join a wide variety of student organizations based upon their various extracurricular interest - 270 registered organizations, to be exact! Do you want to connect with others professionally, culturally, politically, spiritually, religiously, academically, etc? The many diverse student organizations allow you the opportunity to gain a wide range of experiences outside of the classroom.
Recognized student organizations host large events on campus, plan supplemental educational workshops, showcases, and fundraisers. They have access to reserving space on campus, fundraising, on-campus banking with UCorp and funding grants through Associated Students.  
Recognized student organizations plan, facilitate and host large scale cultural and historical graduation ceremonies. Through the extensive activities and events created and implemented by student organizations, leadership development is cultivated by working directly with faculty and staff advisors.
Greek life has been part of San Francisco State University's history since 1928 with the installation of the Epsilon Chapter of Delta Phi Upsilon at San Francisco State Teachers' College (Franciscan, 1928). Currently, 49 Greek organizations are formally recognized at SF State under the umbrella of the United Greek Council.
Greek organizations serve to enhance the college experience at SF State. Greek life provides a supportive community in which students can explore, grow, and learn new leadership skills, academic discipline, event planning, financial proficiency, professional aptitude and social networking skills. Greek life provides a national and/or local network of sisters, brothers and alumnus who are committed to supporting development, growth, and the achievement of life goals. Each individual student brings with them their own set of skills and abilities. Joining an organization helps to further develop individual strengths, while at the same time introducing new opportunities that will help to stretch beyond perceived capabilities.
Our fraternity and sorority life break into various councils based upon values, principles, culture, service, social, and much more!  
United Greek Council (UGC)
College Panhellenic Conference (CPC)
Inter-Fratneral Council (IFC)
National Pan Hellenic Council (NPHC)
Latino Greek Council (LGC)
Multicultural Greek Council (MGC)
A sport club is a student organization formed by students motivated by a common interest and desire to participate in a sport or recreation activity, recognized by the University through the Campus Recreation Department, Student Activities & Events and Division of Student Life. A sport club exists to promote and develop interest in that sport or activity at the University. A sport club may be oriented toward competition, teaching, recreation and/or socialization. Sport clubs are all student-based clubs. If you have an idea for a sport club and want to set up a meeting about starting your club, please email sprtclub@mail.sfsu.edu.
We work with Recognized Student Organizations and the University to bring programs, events, and activities to reality. With multiple venues both indoor and outdoor, Student Activities & Events will work with you step by step to bring your event to SF state. 
Come check out the Student Life Event Center (SLEC) located in the Northwest portion of campus. The SLEC began development in spring 2012, with input from vital campus departments and partners. The venue can support technical services, limited catering, and other basic amenities.
Here, we host large scale performances, conferences, award shows, fashion shows, and so much more. This is where students come to celebrate all that is Student Life.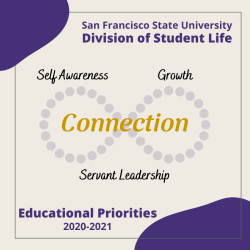 In Student Activities & Events, we are guided by the Division of Student Life educational priorities to foster self-awareness, facilitate personal growth, and model and encourage servant leadership. Through this, we build connection with each other and our campus to fully experience Gator Student Life.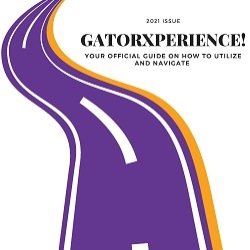 Everything you need to know about Student Activities & Events platform GatorXperience, can be found here!
A step by step guide to learning about Gatorxperience!